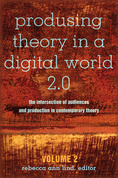 I'm very happy to have a chapter in Rebecca Lind's 2nd volume of 'Produsing Theory in a Digital World,' which was just published by Peter Lang. Here's the abstract:
Last November, a YouTube video portraying a young boy rescuing an even younger girl from what seemed to be a hail of bullets went viral and hit the headlines. The video, titled "SYRIA! SYRIAN HERO BOY rescue girl in shootout," demonstrated both the promise and pitfall of social media for the public generation of accounts and accountability. On the one hand, the spread of this video demonstrated how social media facilitates the participation of new communicators. On the other, the BBC eventually debunked this video as a fake, funded by the Norwegian Film Institute and Arts Council Norway and shot by a Norwegian director in Malta on a set used by blockbuster films Troy and Gladiator, using professional child actors. Social media's affordance of misinformation is a problem not just for the information professionals trying to parse the wheat from the chaff, but also for the civilian witnesses trying to publicize their documentation. This is because well-publicized incidents of misinformation reinforce gatekeepers' verification barrier between private information and public evidence.
In this chapter, I demonstrate how professional human rights fact-finders can be understood, after Bourdieu, as a field characterized by an information logic governed by verification. In contrast, civilian witnesses – particularly at the accidental rather than activist end of the spectrum – can be thought of as a non-field. The verification of social media information depends on digital information forensics, a rapidly evolving field combining new verification technologies with tried and tested gumshoe techniques. These verification strategies are part of the cultural capital of the human rights fact-finding field, distributed via the networks or social capital within the field. The flipside of these verification strategies are verification subsidies, which, after Gandy's concept of information subsidies, are characteristics sources can supply with their information to make it easier for others to verify; these include a digital footprint to facilitate the source's identification. Part of the usefulness of Gandy' concept is that it is an economic metaphor that highlights the connection between the ability to provide information subsidies and the possession of other types of resources. The implication for civilian witnesses is that those with the least amount of symbolic capital in the form of digital footprints and the least amount of cultural capital in the form of understanding verification (in part because they are not part of a networked field) will have the most trouble in getting their social media information verified; it is often those with the least resources, however, who most need access to the public accountability mechanism of human rights. The chapter concludes with considering how the phenomenon of third party verification subsidies, both human and machine, might lower the verification barrier.